Famous military historian and expert Lynette Nusbacher have announced that she is shooting for the next series of the hit show Mysteries of the Abandoned which airs on the Science Channel.
Lynette shared the news on Facebook she said, "We are back in the cellar, socially distanced, with disinfectant wipes and the producer on video link, working on the next series of Abandoned!"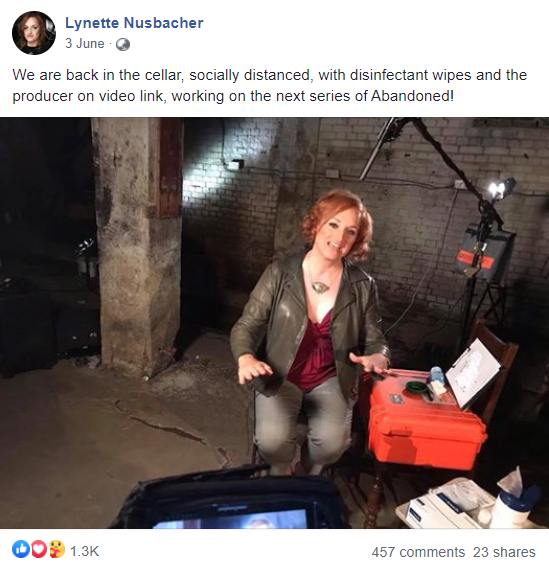 Lynette has been part of Mysteries of the Abandoned series since 2019 and will be appearing in the next series of the show. The show features forgotten engineering marvels around the world and explains the might of the engineering put into these places. She appears in the show as a military historian and expert sharing her expertise with the audience.
Lynette Nusbacher has been part of many TV shows in the past including, National Geographic: Beyond the Movie – The Lord of the Rings: Return of the King in 2003, BattleField Detectives in 2004 and 2005, Weaponology in 2007. In above listed show she can be seen as Aryeh Nusbacher a male characters because these shows were recorded before she changed her gender.
Later after her gender reassignment surgery, she worked in many shows including Conspiracy in 2015 as a Military Historian. In Time Commanders until 2016 and Mysteries of the Abandoned in 2019 and 2020.
Mysteries of the Abandoned next series and viewers
Lynette shared the announcement by thanking the audience she said, "You guys are all amazing! Thank you so much for your positive thoughts, and your encouragement! The producers were telling me last night that Abandoned is still getting great viewer numbers, and they're expecting another series to be agreed in the next few days. I had no idea that the show was so popular! They'd done a set of interviews in the morning, and they're doing more today while I'm recovering at home with tea and books. I hope you'll all enjoy the new shows – we are making a point of setting our sights all around the world again. Look after yourselves, stay healthy, and bless you!"
Audience is very excited hearing the news and one of the person asked Lynette if she goes to all the places featured in the series in reply she said, "I've been to some of these places; but mostly we send crews there and they film stuff and show it to us. Now because of the Pandemic, they're hiring local crews to do the filming and send the footage electronically."
Another viewer asked her if she has plans for a series of WW1 to which she replied, "No, but it could be interesting. Only recently I discovered that my great-grandfather was captured at St-Mihiel!"