Mariah Mills is a realtor from Greenport, Long Island, New York. She is one of the premium real estate agents in Greenport, NY with over 9 years of experience and deals with properties valuing between $500,000 to $4 million.
She currently works for Daniel Gale Sotheby's International Realty as a real estate agent and global real estate advisor.
She is a licensed real estate salesperson and specialized in these regions, Orient, East Marion, Greenport, Southold, Peconic, New Suffolk, Cutchogue, Mattituck, and Laurel.
| Wiki and Bio | |
| --- | --- |
| Full Real Birth Name | Mariah Mills, Mariah J. Mills, Moriah Mills |
| Profession | Realtor, Real Estate Agent |
| Age | 32 years old |
| Date of Birth (DOB) | 1988 |
| Birthplace | North Fork, Long Island, Suffolk County, New York |
| Gender | Female |
| Husband | Kevin Johns |
| Nationality | American |
| Ethnicity/Race | Caucasian, White |
| Religion | Not Disclosed |
| Current Residence | Greenport Village, Long Island, New York |
| Career | |
| Work Experience | Daniel Gale Sotheby's International Realty (2011-present) |
| Awards | 2016 Gold Circle of Excellence, 2015 Gold Circle of Excellence Nominee, 2015 Silver Circle of Achievement, 2014 Silver Circle of Achievement, 2013 Rookie of the Year |
| Education | |
| School | Pomfret School |
| College | Ithaca College |
| Net Worth | |
| Net worth (Estimated numbers) | $2 million |
| Salary | $120,000 per year |
Her ancestors
Mariah Mills says her ancestors arrived in North Fork in 1628 and the family lineage has been conserving the family values and belongings for centuries.
Mariah Mills's husband Kevin Johns
Mariah is married to her childhood love Kevin John's. Both have been dating since very long and got engaged on April 5, 2016, when Kevin proposed Mariah at their house, here is the photo which they shared on Instagram.
Kevin and Mariah got married on Oct 1, 2017, at a beachside in Greenport, New York. The wedding was attended by family and friends. Here is the photo gallery of their wedding photos.
Mariah Mills's real estate career
Mariah got into real estate in 2010, she joined Daniel Gale Sotheby's International Realty in Southold, New York as a real estate sales associate intern and worked there for 3 months from June 2010 until August 2010.
In 2011 she joined D Loves Design PR in Brooklyn, New York as an assistant to CEO of the company where she worked for less than a year.
In mid of 2011 she joined Calypso St. Barth as a sales associate in Greenport, New York and worked there until Nov 2011.
Nov 2011 she joined The Argus Group, LLC in New York city as a marketing intern and worked there until Feb 2012.
During her internship journey at these companies between 2011 and 2012, she has already been part of Daniel Gale Sotheby's International Realty in North Fork, Long Island. She has been part of the company since Feb 2011 and was promoted to the position of Gold Circle of Excellence and Global Real Estate Advisor.
Prior to getting into real estate and during her college studies, she worked at Workplace Stars, LLC as a business consultant intern from June 2009 until Aug 2009. Source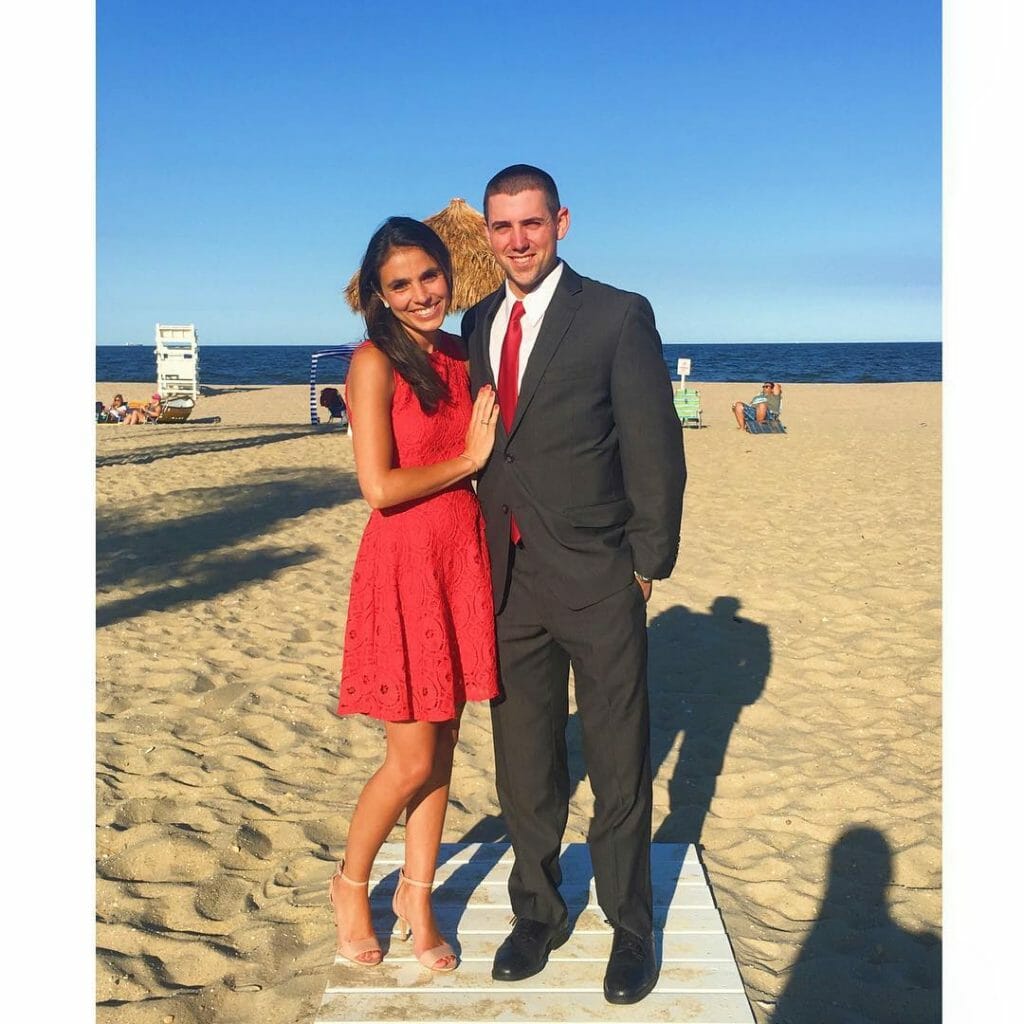 Education
Mariah completed her schooling from Pomfret School in 2007. She completed her degree in Bachelor of Science specialized in Business Administration; Marketing & Management from Ithaca College between 2007 and 2011.
Net worth and salary
Mariah Mills's net worth is estimated to be around $2 million and she draws a salary of $120,000 per year. Being is a real estate agent she earns a good amount of brokerage fees on each sale which adds up to her net worth.
In 2020 the couple has been busy building their own house in North Fork of Long Island where soon they will be moving in.
Mariah is an active yoga practitioner and the couple spends most of their free time on vacation and watching football in the stadium. Also, Mariah Mills is locally known as Moriah Mills.