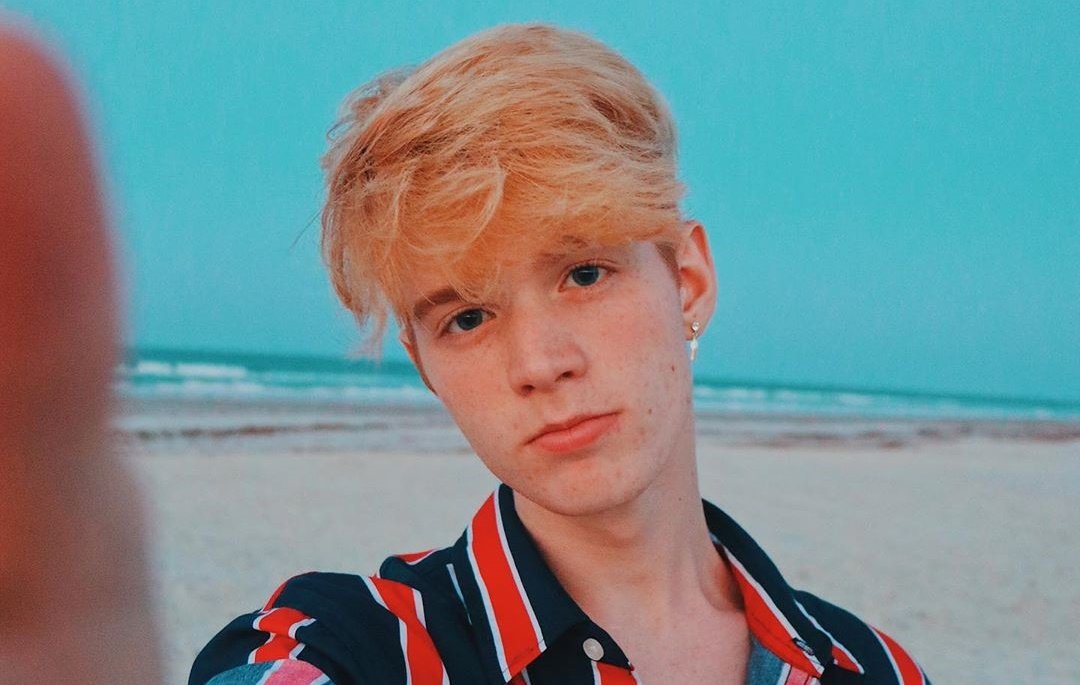 Cody Orlove is TikTok start with over 4 million fans. He is also active on Instagram and Youtube.
He lives in Chicago, Illinois with his father Rick Orlove, mother Sue Orlove, brother Anthony Orlove and two sisters, Alexa and Courtney Orlove.
| | |
| --- | --- |
| Known As | Cody Orlove |
| Age | 17 August 2001, 17 years old |
| Birth Place | Chicago, Illinois, United States |
| Gender | Male |
| Father | Rick Orlove |
| Mother | Sue Orlove |
| Sister | Alexa Orlove, Courtney Orlove |
| Brother | Anthony Orlove |
| Girlfriend | Zoe LaVerne (2017-2019) |
| Address | Chicago, Illinois, United States |
| Religion | Christian |
| Nationality | American |
| Education | High School |
| Ethnicity | White |
| Height | 5'7″, 1.73 meter |
| Occupation | Social Influencer, TikTok, Instagrammer, Youtuber |
Introduction
Born in Chicago Cody Orlove is 17 years old TikTok star he creates lip sync music and comedy videos. He dropped out of the high school to focus on his social media career. He started his social media career on YouNow, a live broadcasting platform. Where he use to upload lifestyle videos and short clips. He became popular due to his good looks.
Family
He lives with his parents and three siblings.
Cody's mother Sue Orlove owns a senior care and companionship business.
Cody's father Rick Orlove is a drummer and performs in a band. He is a self taught drummer and has been performing since he was 15 years old. He is a very religious person.
Cody's brother Anthony is also a drummer like his father and he is not active on socials media unlike his siblings.
Cody has two sister Alexa and Courtney Orlove. Both are in college and are frequently active on socials media.
Cody Orlove's mother Sue Orlove

Cody with his Mother

Cody Orlove's Brother Anthony Orlove

Cody Orlove's Sister Alexa Orlove

Cody Orlove's Sister Courtney Orlove

Cody Orlove's father Rick Orlove
Career
Cody started live broadcasting himself on YouNow where he gained popularity for his lifestyle clips and looks.
Then he started posting lip sync and comedy videos on TikTok where he immediately gained popularity and became famous. Right now he has over 4 million fans and 179 million likes on his TikTok page.
He also started a Youtube channel with his exgirlfriend Zoe which was growing repidly. But as they both broke up the channel is now inactive and he has create a separate channel of his own where he post once a week. He post vlogs and songs.
Looking at his viewership and response to his videos it is clear that he has a loyal fan base who support him.
With his total follower-ship on the internet is around 7 million and with that number Cody's estimated net worth is around $200,000.
Cody's Breakup with his girlfriend Zoe LaVerne
Cody and Zoe broke up in March 2019 after Zoe admitted of cheating on him with Drayke Austin who is also a TikTok star.
It looks like Cody is not doing very well with Zoe after the break up recently he released a song titled 'Hold Up' which dictates the love story and betrayal from his relationship.